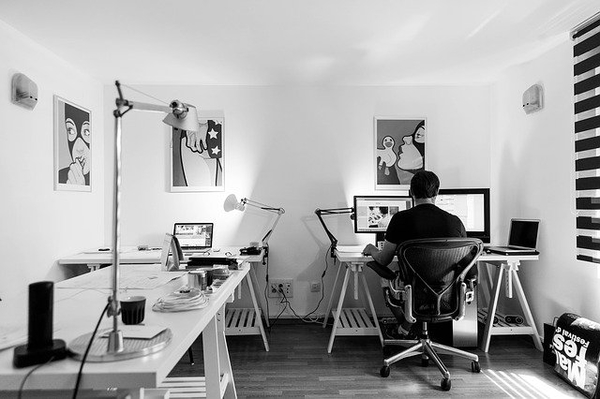 As many of us retreat to our homes to start working remotely as a way for each of us to do our parts in order to prevent the spread of COVID-19, it's important to start thinking about how our workstation is set up at home.
In many cases, our home offices might be more for show than they are for functionality. For freelancers, it's probably more likely that their work setups at home are more dialed in than that of people who work at brick-and-mortar establishments. Those new to the work-from-home life can benefit from some of the tips listed below to make your experience working from home the best it can be.
Invest in a Good Desk and Chair
If you're going to work from home and you have the extra means, invest in a good, sturdy desk, possibly even a standing/elevating desk that will allow you to switch up the monotony that generally comes from sitting in an office chair for 8 hours a day. Investing in an ergonomic chair that has good spine support and comfortable armrests will help you sit with better posture and minimize the tension in your spine.
Team Stretch
Whether you're on a conference call or you're flying solo, take a ten-minute break to practice some yoga poses, which will help you stretch out your spine, your hips, your legs, and any other area of the body where you're feeling tension. Yoga is a great way to recalibrate your body and activate your mind.
Routine, Routine, Routine
Now that you're working from home, there are going to be far more distractions and temptations that will take you away from your work, which is why it's extremely important that you develop a routine. Work in the morning, then take a break. Work again in the afternoon, then take another break. Maybe save a little bit of work for the night time when everyone else in the house is fast asleep, just to get a little more productive time in.
Chiropractic adjustments are a great way to help your body recover from the work-from-home transition. Contact Scorca Chiropractic today to learn more about who we are and what we do. Please stay safe and healthy out there.